Here You Can Read Best Birthday Shayari, बर्थडे शायरी, जन्मदिन शायरी, Happy Birthday Shayari, Birthday Wishes Shayari.
1) Birthday Shayari
आप बहुत सुंदर हैं,
लेकिन आप बहुत शरारती हैं,
मेरी रानी,
आपको मेरी ओर से जन्मदिन की शुभकामनाएं.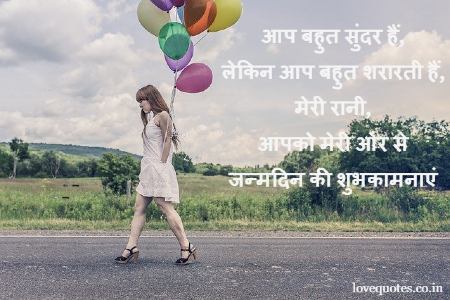 Aap bahut sundar hain,
Lekin aap bahut sharaaratee hain,
Meri Rani,
Aapako meri aur se,
Janmadin ki shubhakamanaye.
You are so cute,
But you are very naughty,
My Queen,
I wish you Happy Birthday.
Happy Birthday Wishes For Wife In Bangla
তুমি অনেক মিষ্টি,
তবে তুমি খুব দুষ্টু,
আমার রানি,
তোমাকে জন্মদিনের অভিনন্দন.

Happy Birthday Quotes for wife in bengali.
Happy Birthday Wish for wife bangla sms.

Tumi annka misti
Tabe tumi khuba duṣṭu,
Amara rani,
Tomake janmadinera abhinandana.

2) Birthday Shayari Wishes
Birthday wishes quotes for sister in Kannada
ನೀವು ನನ್ನ ಮುದ್ದಾದ ಸಹೋದರಿ,
ನೀವು ಸಿಹಿಯಾಗಿದ್ದೀರಿ,
ನಾವು ಯಾವಾಗ ಭೇಟಿಯಾಗಬಹುದು,
ನಾನು ನಿಮಗೆ ಜನ್ಮದಿನದ ಶುಭಾಶಯಗಳನ್ನು ಕೋರುತ್ತೇನೆ.

Nīvu nanna muddada sahōdari,
Nīvu sihiyagiddīri,
Nāvu yavaga bhēṭiyāgabahudu,
Nānu nimage janmadinada subhasayagaḷannu koruttene.
You are my cute sister,
You are sweet,
When can we meet,
I wish you happy birthday greet.
शायरी में बर्थडे कैसे विश करें?
हर संडे को होती हे स्कूल और कॉलेज को छुट्टी,
इसलिए सबको पसंद हे संडे,
जब में पैदा हुवा था तब भी था संडे,
लेकिन मुझे सबसे ज्यादा पसंद हे मेरा बर्थडे.
Happy Birthday To Me.
हैप्पी बर्थडे शिव शंकर शायरी इन हिंदी
शिव शंकर को जिसने पूजा उसका जन्मदिन यादगार हुवा,
शिव शंकर की कृपा से उसका जीवन समृद्ध हुवा,
भोले शंकर का आशीर्वाद उसको हमेशा के लिए मिल गया.
साली जी को हैप्पी बर्थडे विश करने के लिए शायरी
मेरी साली है बहुत चुलबुली,
मचाती हे हमेशा, हर जगे खलबली,
लेकिन उसको तो पसंद हे बाहुबली,
ऐसी क्यूट साली को हैप्पी बर्थडे,
फ्रॉम जीजाजी.

Next Page –
1} Shayari Collection
Marathi Shayari
Love Shayari Marathi
Romantic Shayari,
Inspirational Love Quotes
Sad Shayari in English
Sad Shayari Photo, Funny Shayari
Love Shayari, Love Quotes,
Sad Shayari, Dard Bhari Shayari,
Shayari Photo, Hindi Shayari,
Dosti Shayari, Hindi Wishes.
Love Status,
Sad Status
Share this बर्थडे शायरी to Social Media.
You can also find us on Facebook,
2022.