Sad Shayari In English & Hindi
Sad Shayari In English And Hindi
कोई कितना भी हिम्मतवाला हो,
हमेशा खास इंसान की याद रुला देती हे !
Koi kitana bhee himmatavaala ho,
Hamesha khaas insaan kee yaad rula detee he.
Very sad shayari
जिंदगी में हर बार सहारा नहीं मिलता,
कोई प्यार से प्यारा नहीं मिलता,
जो पास हे उसे संभाल के रखो,
क्यों की अगर एक बार वह खो जाए तो वो फिर दोबारा नहीं मिलता !
Jindagee mein har baar sahaara nahin milata,
Koi pyaar se pyaara nahin milata,
Jo paas he use sambhaal ke rakho,
Kyon kee agar ek baar vah kho jae to vo phir dobaara nahin milata.
Sad shayari status
दुआ मांगी थी आशियाने की,
चल पड़ी आँधिया ज़माने की,
मेरा दर्द कोई नहीं समज पाया,
क्योंकि मेरी आदत थी मुस्कुराने की.
Dua maangee thi aashiyaane kee,
Chal padee aandhiya zamaane kee,
Mera dard koee nahin samaj paaya,
Kyonki meree aadat thi muskuraane kee.
New sad shayari
सब से ज्यादा दर्द तब होता हे जब,
बिना किसी गलती के लोग,
हमें गलत समझ लेते हे,
और साथ छोड़ देते हे.
Sab se jyaada dard tab hota he,
Jab bina kisee galatee ke log,
Hame galat samajh lete he,
Aur saath chhod dete he.
Sad shayari in hindi for love
माना की तेरी नजर में शायद कुछ भी नहीं हु में,
पर मेरी किंमत तू उनसे पूछ जिनको पलट कर नहीं देखा मैने सिर्फ तेरे लिए.
Mana ki teree najar mein shaayad kuchh bhee nahin hu mein,
Par meree kimmat too unase poochh,
Jinako palat kar nahin dekha maine sirph tere liye.
Sad shayari in english
जब कोई अपना गैरो के जैसा व्यवहार करने लगता हे,
तब दिल को दूरियों का अहसास होने लगता हे.
Jab koee apana gairo ke jaisa vyavahaar karane lagata he,
Tab dil ko dooriyon ka ahasaas hone lagata he.
Zindagi sad shayari
झूठी हमदर्दी नहीं दी हमने किसी को,
जिसके लिए भी कुछ करते हे, बस दिल से ही करते हे.
Jhoothee hamadardee nahin dee hamane kisee ko,
Jisake lie bhee kuchh karate he,
Bas dil se hee karate he.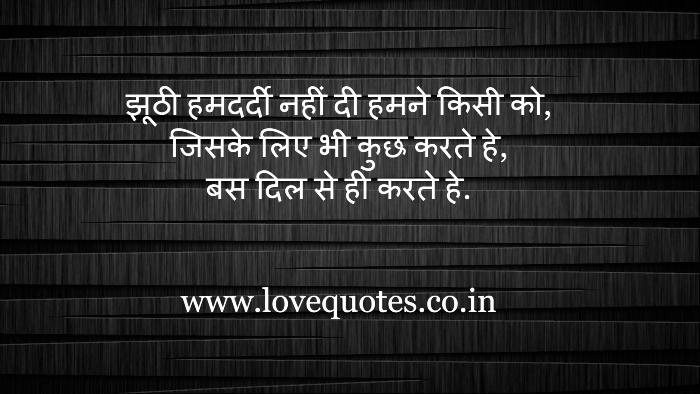 Sad shayari in hindi for girlfriend
आज मेरा वक्त भी मेरी हालत देखकर रो पड़ा,
और बोला ख़राब में चल रहा हु,
और सजा तुम्हे मिल रही हे.
Aaj mera vakt bhee meree haalat dekhakar ro pada,
Aur bola kharaab mein chal raha hu,
Aur saja tumhe mil rahee he.
If you liked this Shayari, then please share to social networking site. You can also find us on Twitter, Facebook and Instagram.
You may like True Love Shayari, Marathi Status,
Love Shayari Marathi